The Latest Fencing News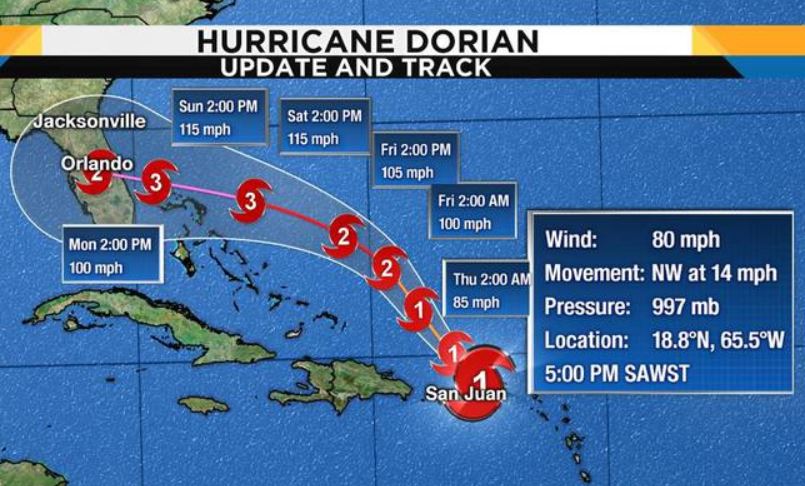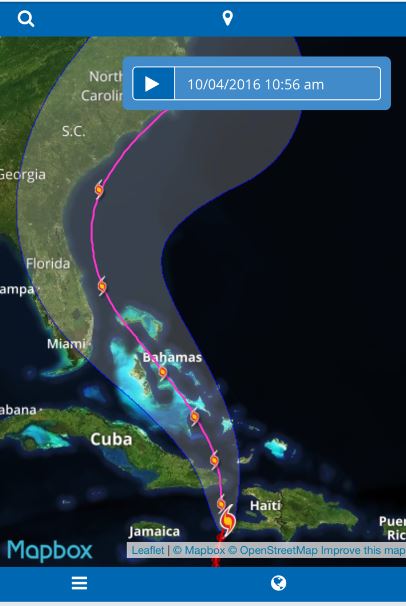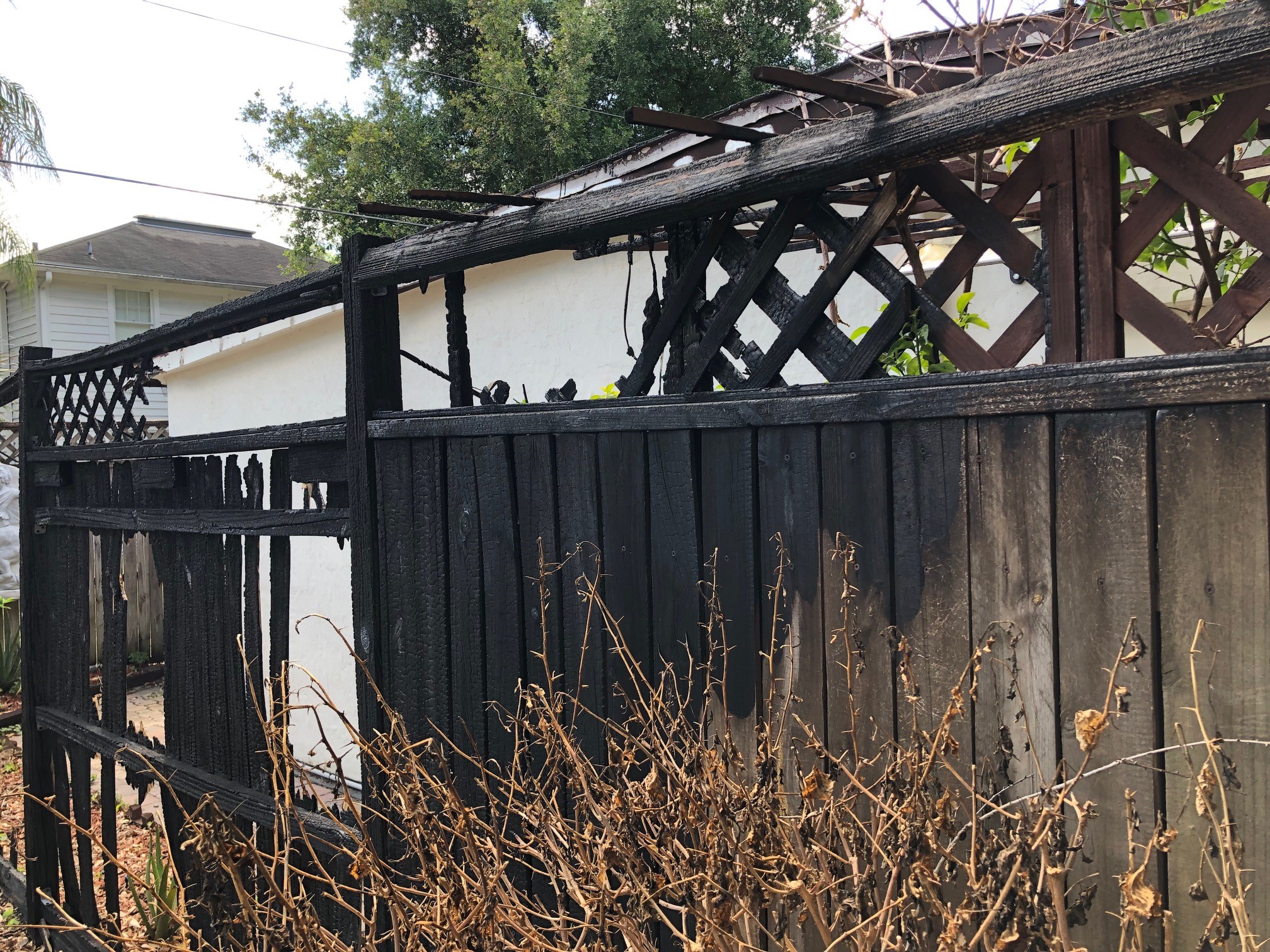 Custom Fence In Orlando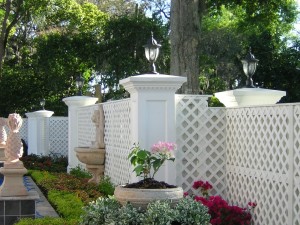 Building a custom wood fence in Orlando is truly an art form. At Custom Fence Orlando and Paramount Fencing, our design team possesses both the imagination and the knowledge necessary to create sustainable custom fence solutions. The main reason is our dedication to research and development through a scientific approach. For example, all new custom fence designs are built, tested, torn apart and examined before suggesting them to the Central Florida and Orlando market. Simply put, we are a highly trusted resource.
Yes, we understand it's easy for any company to call themselves custom, but custom is more than arching a prefab wood panel or taking a standard style and adding something to it. It is a statement, a statement that matches both the homeowner and the architecture of the Orlando home. At the end of the day, a custom fence is simply about creating something that belongs. It is a backdrop and should not dominate the whole. Instead, a custom fence should compliment the home and landscaping. It should be balanced. It should be as if it was always meant.
Understand, it takes a special type of company to accomplish the above, one who cares. It takes passion and patients. It takes planning, coordination, and a lot of discussion. It cannot be accomplished in one quick meeting by a salesperson. So if you need a custom fence in Orlando or Winter Park or Windermere, we are here to help design that perfect fence. We are here to help navigate and avoid the common mistakes.
See the most common custom wood fence designs used in Orlando.
Horizontal Wood Fence The Craze In Orlando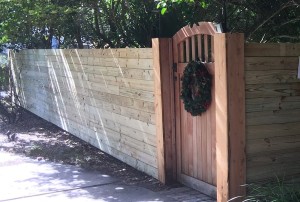 Horizontal wood fence in Orlando is becoming popular, but be forewarned. The way that horizontal board fence is built counts. Using the wrong type of lumber, fasteners or fence posts spacing can result in disaster. Within a few years, those horizontal boards will pop off at the seams and begin to split excessively. That flat streamlined look you admired will become a wavy and warping mess. So when considering a custom horizontal wood fence for your Orlando home, here are four common building principles you need to know:
Principle 1: Use the right type of materials. Ideally, a horizontal wood fence should be built with cedar. Cedar is less prone to experience issues caused by the moistness of the Florida climate such as warping splitting and cracking. If you are considering pressure treated pine, make sure the lumber is treated with Eco-Life, not MCA. Make sure the grade of lumber is #2 prime and pay close attention to principles two and three.
Principle Two: Use the right material thickness for the chosen method of construction. When using pressure treated pine, use no less than two-inch thick lumber coupled with post six feet on center to minimize warping and bowing. The thickness of cedar should be no less than an inch and should be reduced to four foot on center. All horizontal slats, regardless of selected wood species, should be staggered. Keep in mine, horizontal fence is basically a deck built straight up in the air. As a result, the post to height leverage ratio should be no less than 50% leverage ratio.
Principle Three: Use the right fasteners. Stainless steel, stainless steel, stainless steel. The use of galvanized fasteners will quickly rust if used in pressure treated pine. Continue reading more at Custom Wood Fence Orlando.
Principle Four: Pick the right custom fence company. The majority of Central Florida fence companies claim to be custom for two reasons, money and marketing. Just keep in mind, there are only two legitimate custom fence companies located in Central Florida who have the ability to create custom fence solutions. Do your research and never choose a Florida fence company that has the words outlet or discount attached to its name.
Choosing The Right Custom Fence Company.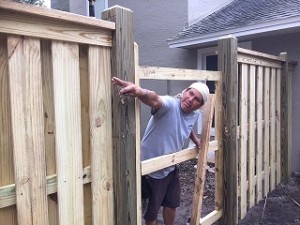 An Orlando fence company is a custom fence company, right? Nope. If you are considering a custom aluminum, vinyl, or wood fence you will soon discover how confusing selecting an Orlando custom fence company has become.
Complicating the already complicated, new fence companies and products are popping-up monthly as the economy rebounds. Each new business brings their own standards, opinions, and their own methods and marketing strategies. As a result, it can be difficult to separate fact from fiction, fiction from fact. Truthful and accurate answers will only be found through research. At Custom Fence Orlando and Paramount Fencing, we are here assist in navigating that maze.
Understand, a custom fence is an investment. It should be handled as such. The custom fence company managing that investment should be well vetted. As the old saying goes, "Trust but verify." Below are two simple steps that will save time and aggravation:
Step One: Know who you are dealing with. Understand in the State of Florida a fence company is required to have a local municipality license in which they operate. Companies can be verified by contacting the county or city government in which you live. Next, any business is required to be registered with the state: Factious Name, doing business as or incorporated. Regardless, the fence company is easily verified by visiting sunbiz.org.
Step Two: Know their reputation. Don't be afraid to contact the BBB or a referral site such as Angieslist.com or simply do a google search with the companies name followed by the word "complaint." Companies with bad reputations pay big money for Search Engine Optimization Companies to bury results, so make sure you check the second and third pages.
Hurrican Matthew and Fence Preparation
As you are aware, Hurricane Mathew will affect Central Florida in some manner. From Orlando to Oviedo, from Winter Park to Winter Springs, Hurricane Mathew will huff and puff and try to blow those fences down. As a result, we at Paramount Fencing are encouraging every homeowner
to embrace that old fashion saying, "An Ounce of Prevention is Worth A Pound of Cure." It is time to protect that investment, your fence.
Here are few things you can do to protect your investment. They are also the difference between the insurance company picking up the tab or the cost of repairs coming directly out of your pocket.
Remove the gates and place them in the garage. Understand the gate areas are the weakest part of any fence line. They can be easily removed by removing the hinges attached to the gate itself. Simply remove the screws. Do not remove the screws attached to the fence itself. If you have an exposed pool, make sure you put up orange mesh fence at the gate entry. If you do not have time, call us. We will take them off and re-install them once the storm passes for $100.00.
If you have a stretch of fence line which is standalone or not attached to the fence line as a whole, brace it. Bracing can be accomplished by taking a 2" x 4" about two feet long and placing it at a 45-degree angle, one end buried in the ground, one end attached to the post with a screw. If you do not have time, call us. We can create the bracing and then take them off once the storm passes for $10 per brace.
If you have a vinyl fence, make sure you remove the post caps and place them in a safe place. If they are glued, still check your caps.
If you have items attached to your fences such as fence art, potted plants, or equipment. Remove it.
If you have tree limbs that overhanging your fence, trim them.
The above are just a few ways to protect your investment.
In the event you are impacted by the Hurricane and suffer damage, let us know immediately. Understand, the previous customer will always have priority over new customers. If you are not a previous customer, make sure you take the opportunity reserve pre-Hurricane Mathew estimate. Schedule. We promise we will work diligently to fix your fence once the hurricane passes.
Last, my team will be here to help in any way possible. Even if you need assistance in cutting downed trees and removing debris, we are here to help. We have tractors and chainsaws.
Take me to Paramount Fencing Hurricane Preparedness Center.
Pre-Hurricane Mathew Estimating Schedule.
If you were around for the hurricanes of 2004, fences and screen enclosures were the most damaged items. The increasing need for fence repairs and replacement created shortages of good fence companies who were licensed and insured. As a result, homeowners were faced with long wait times for estimates and fence installations. The homeowner had to settle for fly by night companies fence companies or individuals trying to take advantage of the situation. More often than not, the homeowner either lost their deposit or ended up with sub-par fences.
DONT BE THAT HOMEOWNER. Reserve your free estimate spot before the hurricane even hits. It simple. Fill out the phone below, and your spot will be reserved in the order in which it was received.
How To Pick A Fence Company After A Hurrican.
If you find yourself requiring a fence after a hurricane, make sure you don't fall victim to the scams. The market will be flooded with fly by night companies and individuals looking to make a quick buck. Do your homework. Below is a checklist which will assist you in making a well-informed decision.
Never call a fence company that placed a door hanger on your door unless they have a website associated with the company ... Facebook or Google plus
Call three fence companies and request an in-person estimate. Phone quotes will only set you up for failure.
When selecting the final bid, do your homework and check that company out. Below are few resources:

See if company has any complaint listed with the BBB
Join Angieslist.com and read the companies reviews. Try to avoided pay by click websites which claim to be a home advisor who sells your lead to as many fence companies as possible.
Verify that company is registered and licensed to do business in the State of Florida. VisitSunbiz.org and do a corporate Search.

Never give a fence company a material deposit in the form of cash or check. Always, use a credit card.
Do your research on the building method and materials being used. There is a great resource guide at Paramount Fencing's Buyer's Guide
Check out Kip Hudakoz, The owner of Paramount Fencing, as he discusses how to blow off the dust from that back yard process. It's all about the passion for the process.