Everything You Need To Know About Horizontal Fencing?
Horizontal Board Fences are beautiful and can provide that clean and contemporary look that has been missing in the Orlando, Winter Park, Oviedo, and Central Florida Market Place.   But... Before traveling down the Horizontal fence path, we encourage you to do your research.   Here is why:  The success or failure of the horizontal fence will depend on the design, product, and the company selected.
 As you will soon find out, there are a few fence companies that can propose and build a horizontal fence.   The question is can that fence they are proposing withstand the harsh Florida climate and the test of time.  Understand, the  Central Florida's climate is harsh and brutal.  No. it is not the Mojave desert, nor is it Antarctica, but it is Florida. After all, we receive over 53.9 inches of annual rain fall and a daily temperature change of 10 plus degree which promotes expansion and contraction.  Let's not forget the afternoon thunderstorms with wind guess up to 65 mph winds or the tropical storms or the hurricanes.  Simply put, that fence better be built to last with the right product and building method.   Anything less will only result in wasted money and a lot of aggravation.  
So, we at Custom Fence Orlando take Horizontal Fence seriously.  Any fence system we suggest is researched, designed, and tested in our climate.   Each horizontal fence is based on four general principles and should assist those DIY's is creating that beautiful horizontal custom fence.    
THREE PROVEN HORIZONTAL FENCE STYLES THAT WORK IN FLORIDA 
Horizontal Composite Fence
It's rare and unique to find a composite horizontal fencing system that can withstand the torture of the Florida Climate.  
Natures Composites Santa Fe fence is a premium, low-maintenance, eco-friendly composite fence. Get the look and feel of wood without the worries! Santa Fe fence is as durable as it is beautiful. It can withstand high winds and extreme temperatures (cold or hot) making it perfect for any climate. Santa Fe fencing is insect resistant and it won't twist, rot, splinter, or sag like other wood and wood composite products. Santa Fe fencing made from wheat straw cellulose and clean recycled HDPE plastics (milk jugs.) Our SMART-FIT interlocking component system makes installation quick and easy. It's the perfect solution for all your privacy fencing needs. Read More....
Horizontal Cedar by Paramount Fencing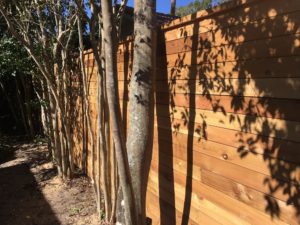 BOARD ON BOARD * SHADOW BOX * STOCKADE 
Horizontal Cedar Wood Fence
Horizontal Stockade Shelf Top Cedar Wood Fence is a great way to accent that back yard.   This style feature a true 1" x 4" S4S finish grade horizontal cedar boards and 2" x 6" horizontal S4S finish grade shelf cedar board.  Each board is fasten with a series of 2" & 3" stainless steel double threaded decking screw.   
Cedar by far is the best wood species to use when building horizontal fencing in Florida.  It is less prone to expansion and contraction caused by water intrusion which means less cracking, cupping, and warping of the cedar boards.  The main reason is the trees slow growth during infancy which forces the growth rings tighter and tighter together. Once tight enough, heart wood is created. Then the natural toxic and oils are produced.  Oh do insects and fungal decay hate that.         
Horizontal Pine Fence
Horizontal Stockade Shelf Top built from pressure Treated Pine is a attractive alternative to cedar only because of price.   The pine is less expensive and can provide a unique look for those larger projects.  This style built with 2" x 6" S4S number 2 prime horizontal boards treated with EcoLife which are staggered and secured with 3" stainless steel nails.     A natural curing process of 30 -60 days must occur prior to sealing and staining.   Unlike other types of horizontal wood fences, pressure treated pine will require annual maintenance and resealing every two years. 
The key to a great Horizontal Pressure Treated pine fence is never to use less then a two inch profile.  Any Fastener used must be stainless steel screws.  Read more.... 
Horizontal Pressure Treated By Paramount Fencing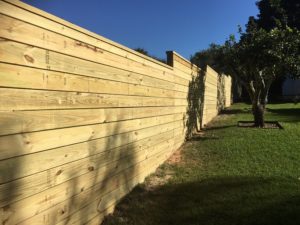 STOCKADE AND SHADOW BOX