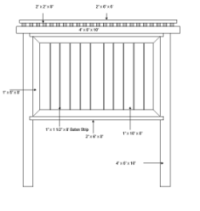 Have you ever driven down the road and did a double-take at a fence? Chances are that the standard fencing system has been personalized to match the homeowner's desires.  Now, have you ever pulled over and whipped out that phone and took pictures of a fence?  Maybe you were even inspired enough to knock on the door and inquire. If you did, that is a custom fence.
According to the owner of Paramount Fencing, "A customization of a fence is a unique process of marrying multiple types of materials and cross disciplines to design and build a fence that blends into the contour of a landscape and compliments the architecture of a home.  Building a custom wood, vinyl, or aluminum fence in Orlando is truly an art form."  He further added that a fencing designer must possess both the imagination and the knowledge necessary to create a beautiful and long-lasting custom fence.  This is only possible when the fence designer is truly dedicated to research and development through a scientific approach.
When we asked what makes a good custom fence he said, "At Paramount Fencing, all new custom fence designs are built, tested, torn apart and examined before suggesting them to the Central Florida and Orlando market.  Simply put, it's what happens after five years that makes a homeowner smile or frown.  We understand it's easy for any company to call themselves custom, but custom is more than arching a prefab wood panel or taking a standard style and adding something to it.  It is a statement.  A statement that simply belongs as if it was always meant to be."
When we asked what should a homeowner looks for in a custom fence company he said, "Understand, it takes a special type of fence company to play in the world of fence customization. They must clearly display passion and the ability to be patient.   It takes planning, coordination, and a lot of discussions.  It cannot be accomplished in one quick meeting by a salesperson in your front living room.   My best advice is if the fence designer is pushing a certain style of fence and not explaining all the options, to listen, but move on. If they are not educating you on the materials and how they function long term, show them out the door".
What do you think the biggest mistake homeowner and fence company make when designing a fence?  "I think the biggest mistake is they overlook the most important thing. They design the fence and forget the architectural features of the home and landscape.  Think of it this way: if you like a shirt or dress in the store, would you not take the time to try it on?  Would you not consider the features of your body?"
See the most common custom wood fence designs used in Orlando.